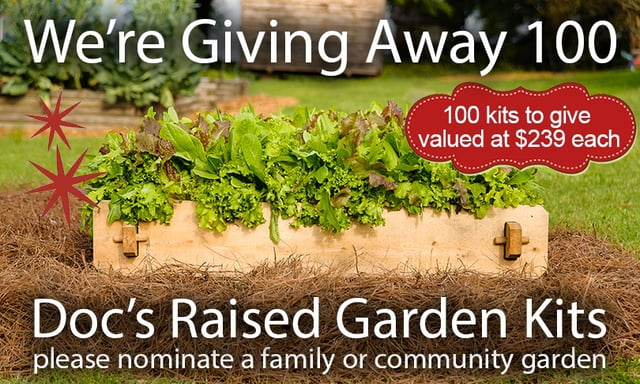 Thank you for helping us give back!
Want a dose of hope and encourangement about youth, gardening, and community involvement? Then please take the time to read the nominations linked at the bottom of this page.
Our hope is that these kits will be a part of providing nutritious food to families who might not have access otherwise. We are gardeners and we KNOW that growing your own food is rewarding and the self-sufficiency it brings is so satisfying - we encourage both.
We have reached the end of the give-away and are closing the Doc's Raised Garden Kits Give-Away to further entries.

The community support for other families and gardens that shines through in the written "nomination reasons." They have been so encouraging to read!

We have begun reaching out and distributing kits to the winners. The process of delivering the Doc's Raised Garden Kits is going to take many weeks, so please be patient as we are contacting everybody individually.

Thank you for your involvement in your community and in the lives of your neighbors. We appreciate your time in considering and nominating a family in need or community garden in your neighborhood.
January 12, 2018