Please nominate a community garden or family to receive one Doc's Kit.
We're asking you to help us give away 100 of our Doc's Raised Garden Kits to worthy community gardens and families in need in Georgia, North Carolina, and South Carolina by filling out the nomination form on this page.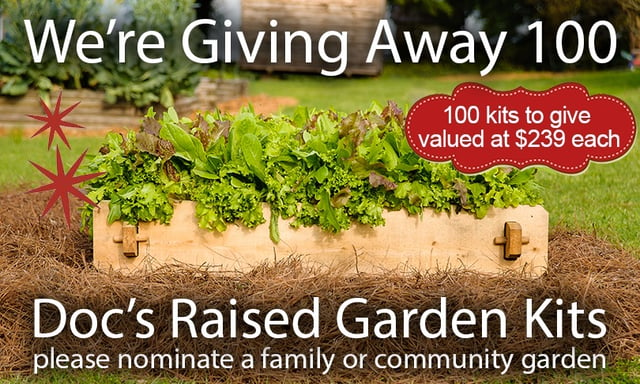 Our hope is that these kits will be a part of providing nutritious food to families who might not have access otherwise. We are gardeners and we KNOW that growing your own food is rewarding and the self-sufficiency it brings is so satisfying - we encourage both.
Each individual may nominate one family or community garden (in GA, NC, or SC*) to receive one Doc's Raised Garden Kit ($239 value).

*Super-Sod is based in these states and for distribution we need to limit the Doc's Kits Give Away to these states.
One Doc's Kit includes:
1 raised bed made of rot-resistant wood that's fastened with handsome mortise and tenon joints (no tools required for assembly);


1 cubic yard BigYellowBag of Soil3

organic compost to fill the bed;

extra Soil3 to use in other gardening projects;

and delivery.
In the form on this page, please write a few sentences explaining why you've nominated the garden or family you've chosen. Once we've approved your nomination, it will be posted to encourage others as they work in their communities to foster a gardening culture. Only your name and nomination reasons will be published; the privacy of whom you've nominated will be protected.
Please share this contest with your friends and familly!